2 Bedroom Family Apartment
Our most affordable two bedroom family apartments have a queen bed in the first bedroom and two single beds in the second bedroom. There is one bathroom and outdoor furniture to enjoy out on the private balcony. These apartments have spacious living areas with flat screen televisions, air conditioning and SKY TV (50+ Channels). Featuring a fully equipped kitchen with dishwasher, microwave, oven and hobs. Each apartment also has full laundry facilities including a washing machine and dryer.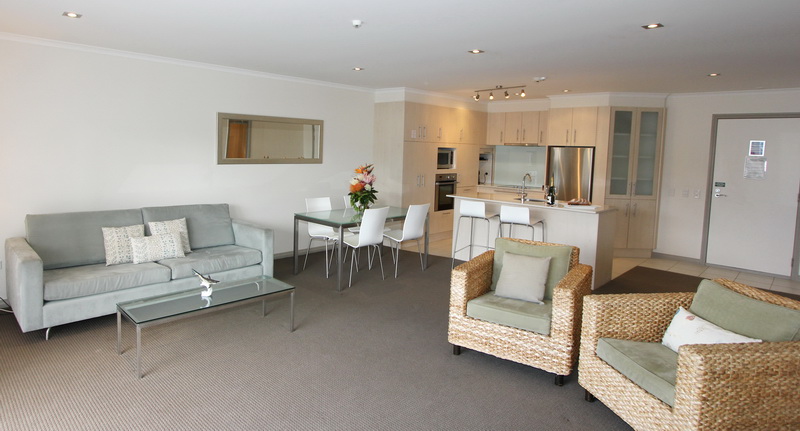 Features
● 1x Queen Sized Bed
● 2x Single Beds
● 1x Bathroom
● Hair Dryer
● Air Conditioning
● SKY TV (50+ Channels)
● FREE WiFi
● Full Kitchen
● Private Balcony
● Outdoor Furniture
● Washing Machine and Dryer
● Off-Street Parking for 1-2 Vehicles
Apartment Starter Pack
2 Bed Fam Apt Includes: Tea, coffee, white & raw sugar, milk, dishwasher powder, dishwashing liquid, shampoo, soap, washing machine powder.
Book Now: 2 Bed Family
Great deals for multiple nights!
Pricing and availability for our 2 Bedroom Family Apartments can be found below.
Book now by selecting your dates and clicking on the Book Now button.
Be sure to check out our great discounts on multiple night stays by clicking on consecutive nights below.
View another apartment
Not quite the 2 bedroom apartment for you?
Perhaps one of these other 2 bedroom apartment types will better suit your needs:

Home away from home
If you are looking for a fully functioning apartment that has everything you need and is in a great location, then this is a great place to stay. It's spacious, immaculately furnished and fitted out. The kitchen area has everything you need and more, the bathroom is snug but modern, clean and functional. Kylie gave us a really warm welcome and made some great suggestions regarding places to visit. The apartment is 2 minutes walk from the ocean, 5 minutes walk from the town centre and just around the corner from a great fish and chip shop. We were very happy we stayed here.
Trudy and Richard
Lovely Spacious Apartments
A lovely surprise! Perfectly clean, spacious, full kitchen, dishwasher, washing machine, iron, and personalised check in. Only steps from the beach. Highly recommended. Great value for money. Will readily book again and perhaps stay longer. Even if it's raining you could feel comfortable here.