2 Bedroom Apartment Water View
Enjoy the lovely views from our 75sqm two bedroom apartments, each with a queen bed and ensuite/bathroom. The outdoor furniture on the private balcony is a great place to watch the boats come and go in the harbour. These apartments have spacious living areas with flat screen televisions, air conditioning and SKY TV (50+ Channels). Featuring a fully equipped kitchen with dishwasher, microwave, oven and hobs. Each apartment also has full laundry facilities including a washing machine and dryer.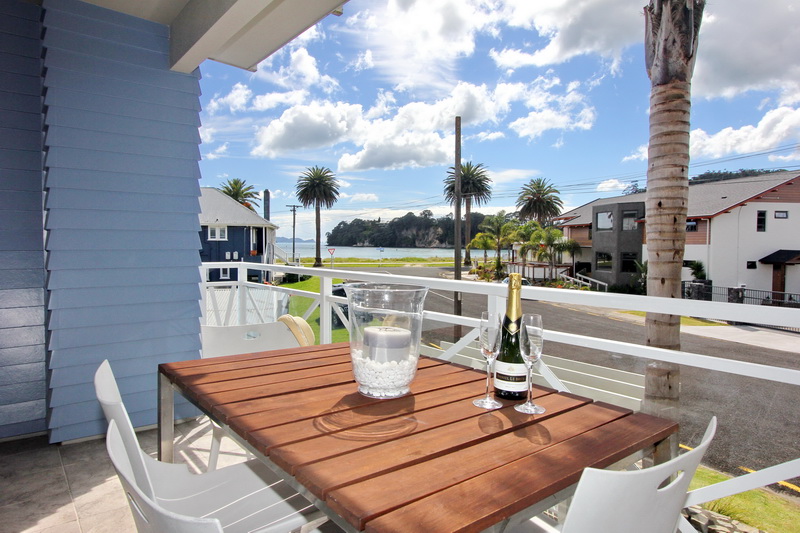 Features
● Water Views
● 2x Queen Sized Beds
● 2x Bathrooms
● Hair Dryer
● Air Conditioning
● SKY TV (50+ Channels)
● FREE WiFi
● Full Kitchen
● Private Balcony
● Outdoor Furniture
● Washing Machine and Dryer
● Off-Street Parking for 1-2 Vehicles
Apartment Starter Pack
2 Bed Water View Includes: Tea, coffee, white & raw sugar, milk, dishwasher powder, dishwashing liquid, shampoo, soap, washing machine powder.
Book Now: 2 Bed Water View
Great deals for multiple nights!
See availability, pricing below and pick your dates to book your 2 bedroom, 2 bathrooms water view apartment now.
If you click on consecutive nights you will be able to see our discounts for multiple night stays.
View another apartment
Not quite the 2 bed apartment for you?
Perhaps one of these other 2 bed apartment types will better suit your needs:

Superb!
We stayed in self-catering apartments all over North Island and these were far and away the best of the lot. They were the first ones we stayed in and we were spoiled for all the rest! Apartments are bright, spacious and modern with everything you could possibly need provided, including a washing machine and drier. Nice balconies; ours had a view of the sea. Everything was spotlessly clean and comfortable. Near to beachfront, restaurants and tourist info (iSite)
Thoroughly recommend for your stay in Whitianga
Deepak
Stylish, comfortable, beautifully appointed on the Bay
This property is gorgeous: spotlessly clean, stylishly appointed, very comfortable. Two couples stayed here with ease, eating our meals in the completely and thoughtfully equipped kitchen. The beds and linens were comfortable and luxurious, and it was very quiet. There is a nice rooftop deck, which looked like it would have been nice to hang out on, if we'd there longer (but was nice for stargazing!). All is in excellent repair, fresh smelling; not a thing out of place or shabby looking. Good parking, even for longer vehicles. Nice attention to recycling! This is charmingly run by a young family.
Ruth