1 Bedroom Twin Apartments
Our one bedroom twin apartments have two single beds and one bathroom. They all have a private balcony and spacious living areas with flat screen televisions, air conditioning and SKY TV (50+ Channels). Featuring a fully equipped kitchen with dishwasher, microwave, oven and hobs and full laundry facilities including a washing machine and dryer.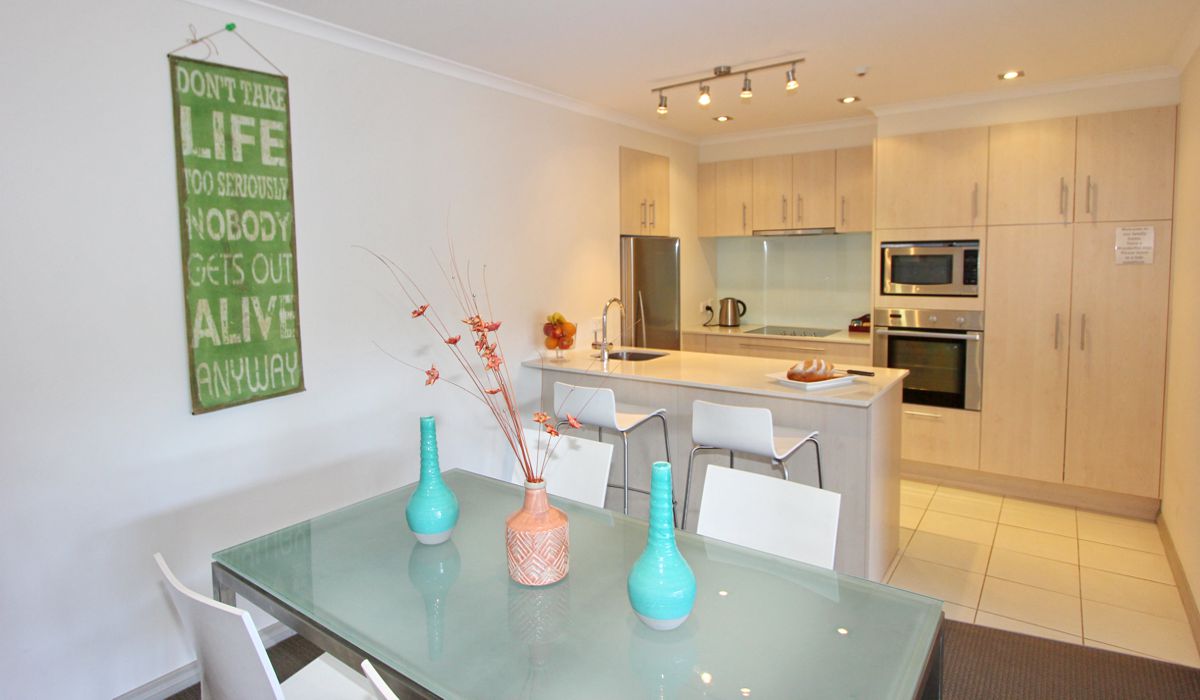 Features
● Two Single Beds
● 1 Bathroom
● Hair Dryer
● Air Conditioning
● SKY TV (50+ Channels)
● FREE WiFi
● Full Kitchen
● Private Balcony
● Outdoor Furniture
● Washing Machine and Dryer
● Off-street Parking for 2 Vehicles
Apartment Starter Pack
1 Bed Twin Includes: Tea, coffee, white & raw sugar, milk, dishwasher powder, dishwashing liquid, shampoo, soap, washing machine powder.
Book Now: 1 Bed Twin
Great deals for multiple nights!
See below for availability, pricing and to book now our 1 bedroom twin apartment.
By clicking on multiple nights you will see the discounts we have on multiple night stays.
View another apartment
Not quite the 1 bedroom apartment for you?
Perhaps one of these other apartment types will better suit your needs:

Modern, clean apartment in good location
The one bedroom twin apartment was very clean with a large fully equipped kitchen, dishwasher, washing machine and tumble dryer. A lovely welcoming apartment with comfortable king single beds and a good shower. The location was ideal for the beach and town and within a 30 minute drive to Hot Water Beach and Cathedral Cove (well worth the visit). The owners were very friendly and helpful, checking tide times for Hot Water Beach and making recommendations of things to do in the area, I would highly recommend these apartments.
Simpson sisters travelling together
Close to Beach and Shops
The apartment was in an excellent location near beach, shops and restaurants. Our 1 bedroom apartment with 2 single beds had a modern bathroom. Modern and spacious with SKY TV. Owners were very helpful and knowledgeable with local advice about the ferry, walking tracks in the area, Cathedral Cove and Hot Water Beach. They gave us spades for Hot Water Beach and hired beach towels at $3 pp. Excellent breakfast and dinner just 2 minutes away. Highly recommended.
Sarah and Jasmine
Five stars from us
We spent two nights in Whitianga and stayed at Crows Nest Apartments. The apartment was modern and clean with everything you need. We had a friendly check-in and the owner was kind enough to have turned the heater on in our room prior to arrival which was nice as it was a cold night. Nice peaceful place to stay so would highly recommend to anyone.