Our most affordable one bedroom apartments have a queen bed and ensuite. They all have either a private balcony or private courtyard area and spacious living areas with flat screen televisions, air conditioning and SKY TV (50+ Channels). Featuring a fully equipped kitchen with dishwasher, microwave, oven and hobs and full laundry facilities including a washing machine and dryer.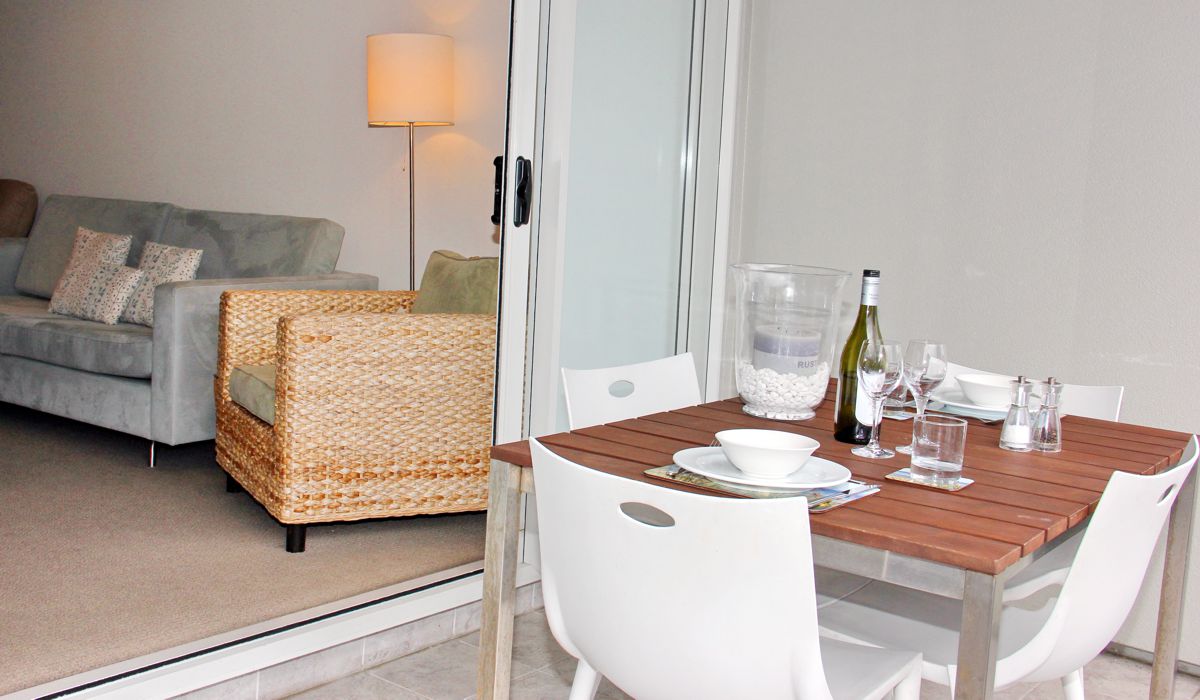 Features
● Queen Sized Bed
● Ensuite Bathroom
● Hair Dryer
● Air Conditioning
● SKY TV (50+ Channels)
● FREE WiFi
● Full Kitchen
● Private Balcony or Courtyard
● Outdoor Furniture
● Washing Machine and Dryer
● Off-Street Parking for 1-2 Vehicles
Apartment Starter Pack
1 Bed Apt Pack Includes: Tea, coffee, white & raw sugar, milk, dishwasher powder, dishwashing liquid, shampoo, soap, washing machine powder.
Book Now: 1 Bed Apartment
Great deals for multiple nights!
Be sure to check out our great discounts on multiple night stays by clicking on consecutive nights below.
Pricing and availability for our standard 1 bedroom apartments can be found in our booking calendar below.
Book now by selecting your dates and clicking on the Book Now button.
View another apartment
Not quite the 1 bed apartment for you? 
Perhaps one of these other 1 bedroom apartment types will better suit your needs:

Comfortable Stay. Would Recommend.
The rooms at Crows Nest are well appointed, very clean and comfortable. Decor is simple, but modern. Free parking on site. There is a fridge, washing machine and dishwasher. We were greeted very warmly at reception by Kylie, who even took the time to give us a map of town and explain where places were. As we arrived before the check in time, she offered for us to leave our bags at reception to collect later, so we wouldn't have to take them with us. When we came back to our room, they had already brought the bags up for us! 11/10 service! We will be coming back here in the future.
Sheree and Ken
Quiet Location
Walking distance to everything. The bed was comfortable, although pillows were a little thin. We still slept very well. The shower in the bathroom is amazing with good water pressure, but the counter space by the bathroom sink is not very large so there isn't much room to put stuff on it. We were there in autumn so didn't need the heat pump / air conditioning but was nice to know that it's there when we come back at summer time. Overall, we think it's great value for money and really enjoyed our stay at Crow's Nest. Would not hesitate to come back or recommend it to someone else.
Kevin and Lyn