1 Bedroom Apartment Ground Floor Courtyard
Enjoy the lovely private courtyard area with outdoor furniture in our Ground Floor apartment. All of our one bedroom courtyard apartments have one queen bed and ensuite or alternatively a wheelchair accessible queen bedroom and bathroom if required. They have spacious living areas with flat screen televisions, air conditioning and SKY TV (50+ Channels). Featuring a fully equipped kitchen with dishwasher, microwave, oven, hobs and full laundry facilities including a washing machine and dryer.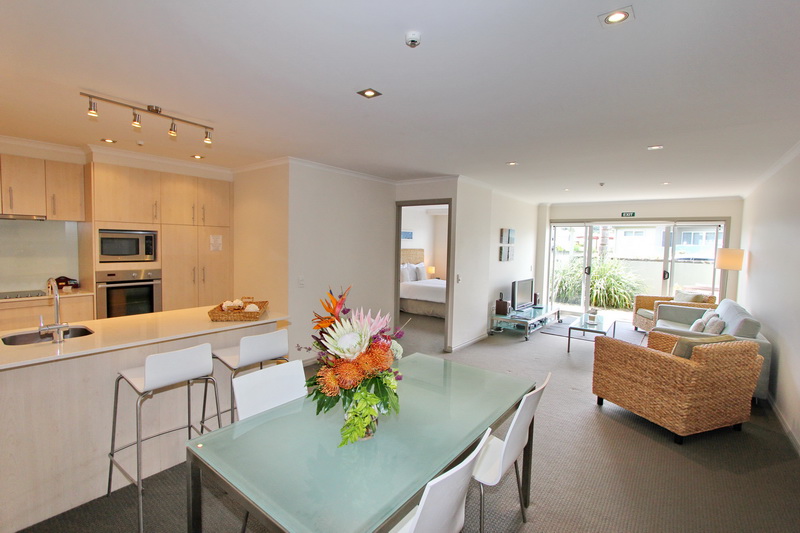 Features
● Wheelchair Accessible
● Queen Sized Bed
● Ensuite Bathroom
● Hair Dryer
● Air Conditioning
● SKY TV (50+ Channels)
● FREE WiFi
● Full Kitchen
● Private Balcony
● Outdoor Furniture
● Washing Machine and Dryer
● Off-Street Parking for 1 Vehicle
Apartment Starter Pack
1 Bedroom Ground Floor Includes: Tea, coffee, white & raw sugar, milk, dishwasher powder, dishwashing liquid, shampoo, soap, washing machine powder.
Book Now: 1 Bed Ground Floor Apartment
Great deals for multiple nights!
See availability, pricing below and pick your dates to book your 1 Bedroom Ground Floor apartment now.
If you click on consecutive nights you will be able to see our discounts for multiple night stays.
View another apartment
Not quite the apartment for you?
Perhaps one of these other 1 bedroom apartment types will better suit your needs:

Perfect spot for a weekend in Whitianga
What a great place to stay!! Just returned from staying 2 nights here and couldn't fault it. So close to everything. Easy walk to the main centre, and we could have easily walked approx.15mins to the lost spring but drove instead. It is nice to stay somewhere with a bit of room and that is comfortable. The apartments are really spacious and modern. Ours was street level and you could see the water from the patio area and only a moment or two from the beach. Nice and warm, with everything needed in a well equipped kitchen plus a washing machine. Highly recommend this place to stay.
Lisa-Maree
Well Maintained
We stayed twice and both stays with the Crows Nest Apartments were great. The rooms are always well maintained and thoroughly cleaned. We especially liked the bathroom care package with the shampoo, conditioner, body wash and hand soap plus a vanity pack with cotton buds and nail file. Highly recommend this place and the hosts made our stay so hassle free.
Anonymous